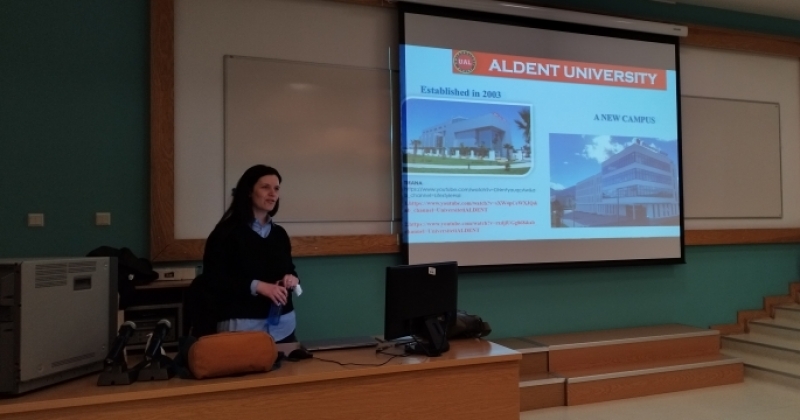 I got an invitation, and thanks to Erasmus+ Mobility, I could visit the Faculty of Pharmacy, Collegium Medicum in Bydgoszcz. I had to prepare lessons with the theme: 'General and inorganic chemistry - what pharmacy and laboratory medicine students should know - distinguished facts with a new approach.' My mobility started from February 20 until February 24, but I have to be there 1-2 days earlier.
My adventure started early forming from Tirana International Airport to Vien and then to Warsaw. From Warsaw Airport to Bydgoszcz Główna, I had first to go to Warsaw Central Station. Still, the problem was that I didn't have internet (apparently, there is any roaming agreement between the two countries), so my adventure just started. Asking people around to help me with the ticket and the orientation, I thought that when I got to the train, that was it. I won, but no! The train was packed, so I had to stay up most of the time, and only when a lady left the train she invited me to take her place; she was so lovely. Everyone was so friendly; they helped me a lot! Finally, after 3.5 hours on the train, I had just arrived at Bydgoszcz Glowna, and I only had to follow two main streets, and the hotel was there! Quite a nice, clean, comfortable, and beautiful hotel, that was not because I was tired, but it was true.
The next day I went to visit the town, wow! A piece of art made of metal, and inside, it was empty; that's how it could remain still. Many attractions! It was beautiful, Opera Nova, the main square, was full of restaurants, bars, pubs, and many museums. I was impressed!
You can find a lot of museums, from national museums to contemporary ones. You can find theaters; they are different titles for little ones and adults. Dinner at La Rosa with my friend Prof. Słomka was delicious (I highly recommend it!). You will find everything, from traditional to international cousins. The area is spectacular, green, peaceful, and has many attractions!
The second day was my mobility the first day: thanks to my friend host Prof. Słomka, I had the best tour ever! He presented me with his workplace, he presented me with his colleagues, and they were very kind! They offered me a coffee (which I love) and many sweets! I got the opportunity to visit the laboratories. I saw student laboratories at the Department of Inorganic and Analytical Chemistry and the Department of Toxicology and Bromatology. Thank you for this opportunity Prof. Kupcewicz, prof. Koba and scientists from both Departments for this opportunity.
The second day was my lessons a day. After the friendly presentations with Prof. Załuski from the Department of Pharmaceutical Botany and Pharmacognosy, I expanded my network and started new collaborations. After we spent the first half of the day in meetings, we went to eat lunch at a Ukrainian restaurant; the decorations, the atmosphere, and the cuisine were delicious.
We were ready for the lessons, at 4.45 I had classes, wow the classroom was full! So excited and so nervous at the same time! The lecture was great, the students asked many questions, and another day was finished! It was an inspiring day.
The other day was the third, with five more hours of lessons, but it was great). We had coffee breaks, and then later, I had the opportunity to visit the laboratory even with Polish students working; they were very gentle.
The lights were turned on, so the evening came earlier; I had the afternoon all for me. I went shopping at Focus, a nice shopping center, and walked around the area. I visited some of the oldest churches around Theater Square, but seeing Opera Nova at night was spectacular! It was a new building, and many people had visited it; some of them enjoyed the evening at the bar. I am so sorry to leave; I am convinced you can find everything you search for in Bydgoszcz: friendly people, excellent food, traditional and international.
I highly encourage Ph.D. students, master students, professors, and researchers to apply for Erasmus Mobility, not only to create new collaborations, bridges, and networks but also to visit places like Poland, like the beautiful Bydgoszcz.